By Matthew Santamaria (msantamaria@hdsa.org)
At the age of 11-years-old, Joe Parks met his future wife, Elisa. When Joe was 13-years-old, he first learned about Huntington's disease (HD) through an offhand comment by Elisa's aunt.
HD is a fatal genetic disorder that causes the progressive breakdown of nerve cells in the brain. It deteriorates a person's physical and mental abilities during their prime working years and has no cure.
"Elisa's family did research and discovered that her great-grandfather passed away at the age of 53-years-old," said Joe. "They assumed that he passed away after a battle with HD."
Elisa knew very little about HD. Over time, her mother started to display HD-related symptoms. The symptoms of HD are described as having ALS, Parkinson's and Alzheimer's – simultaneously.
Symptoms include personality changes, mood swings, depression, forgetfulness, impaired judgment, unsteady gait, involuntary movements, slurred speech, difficulty in swallowing, and significant weight loss.
This meant that Elisa and her two sisters were now at risk for HD. Every child of a parent with HD has a 50/50 chance of inheriting the faulty gene.
Once Joe and Elisa were in high school, her mother's symptoms started to become more apparent. Her mother had helped Elisa's father run a family plumbing business and she started to make several mistakes at work. She also started to have involuntary movements (chorea).
"As the disease progressed over time, Elisa's mother needed a caregiver because her children were in college and their father was busy with the business Joe explains. "For several years, my mother became Elisa's Mom's part-time caregiver which allowed Elisa's sisters to continue their studies. During this time Elisa and Joe's Mom became close. They would go outside and on car rides to get ice cream and she would try to give Elisa's mom a change of scenery. Her daughters helped significantly during this difficult time as well."
Joe and Elisa would marry and have two sons. The children were born before the HD gene was discovered in 1993. After the discovery, Elisa decided to get tested for HD.
The decision to get genetically tested is difficult to make. Each year, 5-10% are tested. It is never the right or wrong decision to be tested. There are people that see no benefit in knowing that they will develop the disease while others want to know in order to make informed choices about their future. It can take up to several weeks to receive your results from the genetic testing center.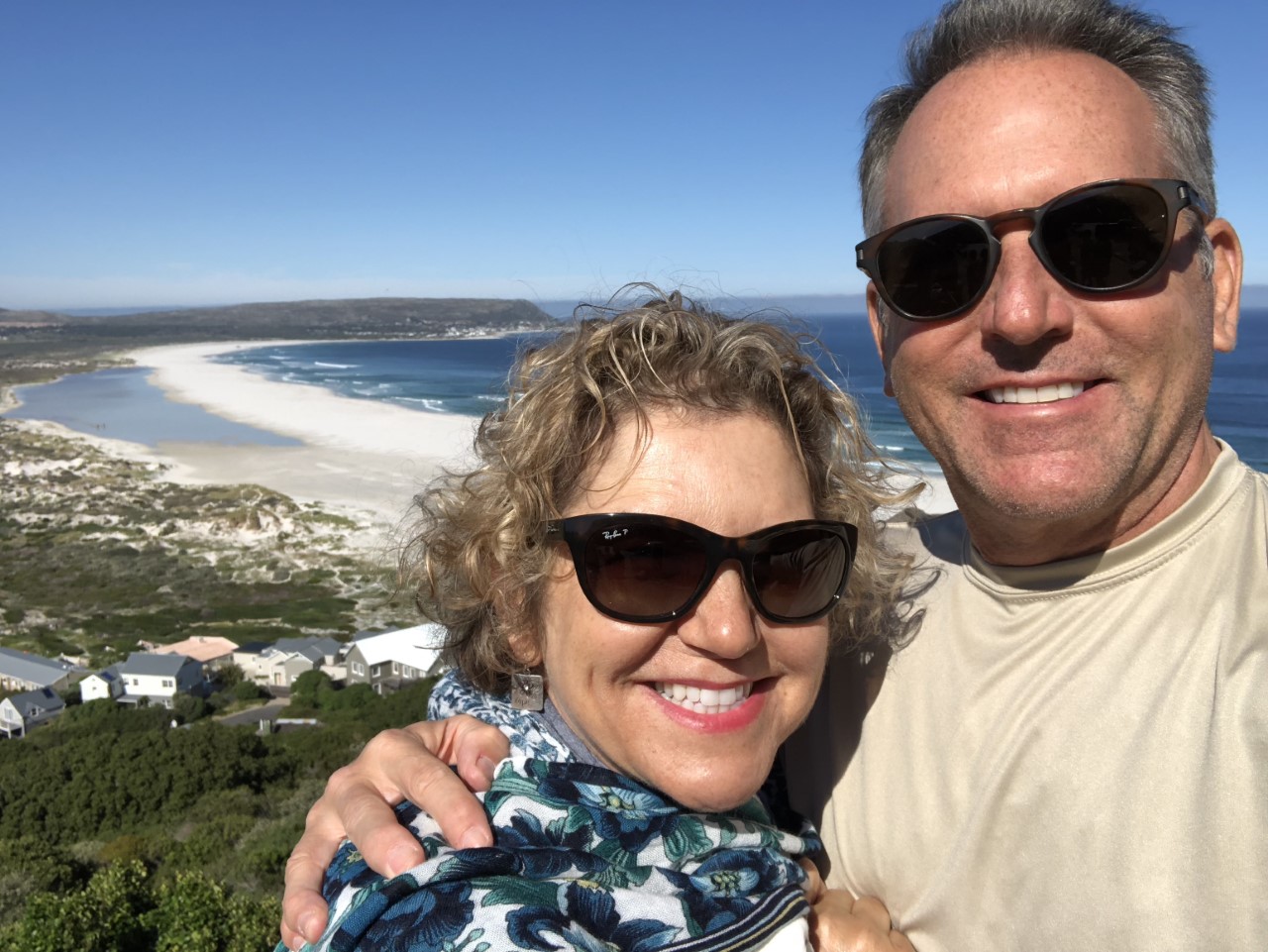 Elisa tested positive. Elisa was a Registered Nurse (RN) and Joe in the medical/pharmaceutical field was by now very well educated about HD. However, the news still hit the entire family very hard and it was overwhelming to deal with.
"We planned on having a big family as we broke down and cried over the news, uncertain of what the future holds," said Joe. "We told Elisa's mother and she immediately blamed herself and felt extremely guilty. Elisa wanted to insure her that this was not her fault, and that she did not have any control over this."
When their children were about 6 and 8 years old, they moved from Connecticut to California because Joe had a new job opportunity. Elisa would take a job at a dermatologist's office running a Laser program and was praised for the quality and amount of work she did for the office.
However, due to insurance reasons, Elisa did not tell anyone else about her HD status of being gene-positive other than her family and close friends.
"When we realized there was nothing, traditional medicine offers, Elisa started non-medical ways to hopefully hold off her HD symptoms which include exercising, creating a better diet, daily meditation and yoga," said Joe.
In 2011, she started to develop HD symptoms that would become apparent in her workplace.
"She started to have some memory loss and her anxiety worsened when she went into the office," Joe explains. "Elisa would work three-four days a week using reminder notes for memory and meditation for anxiety. She was able to continue working until their children both graduated from their colleges. Elisa would hold down the house as she was developing symptoms as I would travel for work. Her symptoms increased with more anxiety, memory loss and some speech changes. Elisa decided it was time to go on disability."
Applying for disability benefits is a necessity for most HD families, but the disability process is often complicated and overwhelming, whether it is Social Security disability or private disability. To learn more,
click here
"Part of the difficulty with the disability process is having to come to terms with applying for disability," said Allison Bartlett, HDSA's Senior Manager of Disability Programs. "There is always fear and concern about the difficulty of the process and how long it will take, but there is also sadness. No one wants to be forced to stop working because of an illness. Every client I have had said they would keep working if they could. It is okay to be sad and frustrated, that is part of the disability process, but remember that Social Security disability is a benefit that you pay into. If you need SSDI because of an HD diagnosis, you have earned that benefit and no one should feel bad about taking it."
While living in California, Elisa would receive care first at the
HDSA Center of Excellence at UC San Francisco
and then at the
HDSA Centers of Excellence at UC San Diego
and praised their HDSA Center of Excellence Director Dr. Bloom.
HDSA Centers of Excellence provide an elite team approach to Huntington's disease care and research. Patients benefit from expert neurologists, psychiatrists, social workers, therapists, counselors and other professionals who have extensive experience working with families affected by HD and who work collaboratively to help families plan the best HD care program throughout the course of the disease.
As their children are adults and understand the risks, one of them is currently going through the testing process at the
HDSA Center of Excellence at UC Davis Medical Center
.
Joe and Elisa moved to recently Florida as they also have a summer home in Connecticut. During the COVID-19 pandemic, Elisa and Joe have taken part in support groups via Zoom at the
HDSA Centers of Excellence University of South Florida
.
Support groups can offer vital emotional support, valuable advice about community-based resources as well as guidance from other group members about many of HD's most challenging situations. To learn more about support groups,
click here
Elisa continues to stay active with her Peloton workout routine, and meditation group and has been seeing a Spiritual Healer as well.

Joe has a message for the HD Community:

"We need more awareness. When I do hear something it catches my ear,
but it is not out there often enough. There needs to be more of a public spotlight on HD
because sharing information furthers the discussion leading to action.
Recently, my 54-year-old my sister-in-law passed away
​after a long battle with HD and we need to do better for our own children."
###
Huntington's disease (HD) is a fatal genetic disorder that causes the progressive breakdown of nerve cells in the brain. It deteriorates a person's physical and mental abilities during their prime working years and has no cure. Every child of a parent with HD has a 50/50 chance of inheriting the faulty gene. Today, there are approximately 41,000 symptomatic Americans and more than 200,000 at-risk of inheriting the disease. The symptoms of HD are described as having ALS, Parkinson's and Alzheimer's – simultaneously.
The Huntington's Disease Society of America is the premier nonprofit organization dedicated to improving the lives of everyone affected by HD. From community services and education to advocacy and research, HDSA is the world's leader in providing help for today and hope for tomorrow for people with HD and their families.
HDSA was founded in 1967 by Marjorie Guthrie, the wife of legendary folk singer Woody Guthrie. Woody died from HD complications when he was only 55 years old, but the Guthrie family legacy lives on at HDSA to this day.
To learn more about Huntington's disease and the work of the Huntington's Disease Society of America, visit www.HDSA.org or call 1(800)345-HDSA.